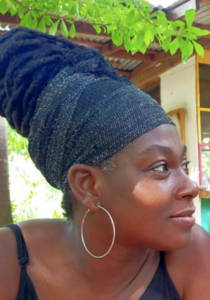 Queen-I has been a Rastafari Ceremony Guide for plant medicine at the Rastafari Indigenous Village for the last 5 years. Her channelling of ONE LOVE energy has served well in supporting sojourners of various plant medicines( Ganja, Mushrooms, Ayahuasca, Kombo, Rapé, Sananga).Queen-I has led exclusively-female ceremonies at her home in the Rastafari Indigenous Village and at the Vital Village in Ocho Rios.
Every year since 2016 she hosts a day retreat called OSHUN SELF-MOTHERING. The themes are centered on female healing, empowerment and support. These retreats consist of ceremonies at the nearby river in honor of the Yoruban Orisha Oshun, crystal healing, art therapy, tarot reading, yoga and earth prayer circles along with an exploration of herbal teas designed for female physical alignment. From these day retreats has emerged a digital support group where Rastafari and other women frequent for advice on motherhood, health,business empowerment
Queen-I now offers INDIGENOUS IMMERSION which is sitting in a warm bath with a selection of specially prepared herbs and teas suited for the person's need.Included are traditional indigenous bushes known to alleviate spiritual ,physical and mental distresses.This is offered at Rastafari Indigenous Village and other retreats and cultural spaces in Jamaica.
Also a female entrepreneur, she and her young daughter make by hand skincare products that specializes in the use of organic herbs and plants to create soaps, creams, body butters, scrubs , oils and shampoo solids all of which nourishes, beautifies, maintains and assists in healing the skin.
Events with Queen Izeteh Berhan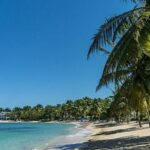 Renew, Restore & Revitalize - 5 day Women's Psilocybin-Assisted Jamaican Retreat
July 14, 2021
This 5 day / 4 night psilocybin–assisted retreat will help you tap into your divine feminine energy and bring forth your best self. Let our well-trained, indigenous retreat leaders guide you on the journey to connect with your inner self to redefine your femininity and let it set your intentions and purpose for a more fulfilling and satisfying life. Surround yourself with the healing energy of women who can help to direct you on the path of love and light. Join us on the beautiful island of Jamaica to relax with holistic therapies, restorative yoga and mindful meditation sessions, alongside psilocybin–facilitated ceremonies* and spiritual rituals to renew and revitalize yourself from the inside out. Experience outdoor…